If thou warn the wicked of his way to turn from it
if he do not turn from his way
he shall die in his iniquity
but thou hast delivered thy soul
–Ezekiel 33:9
Arlin and his wife Tammy Nusbaum caused a minor stir 20 years ago after conducting a $5,000 media campaign in support of The Most Holy and Sacred Book of Mormon and against Joe (as family and friends referred him) Smith. Their ministry is unique in that they formally left the Mormon Church but did not toss out The Most Holy and Sacred Book of Mormon.
Arlin was a 7th-generation Mormon, and Tammy a 2nd-generation when they resigned 30 years ago. Arlin served a mission to Australia as did his grandfatherx4  William Madison Wall (1821-1869) 130 years before, served in a bishopric, and was Elder's Quorum President at the time of his resignation. Tammy attended BYU and taught early morning Seminary.
Arlin's Mission President was President Robert K. Thomas, former vice-president of BYU, and his wife was a counselor in the General Relief Society presidency. They prophesied many things over Arlin and even flew in a General Authority to meet with him. Details are in his book: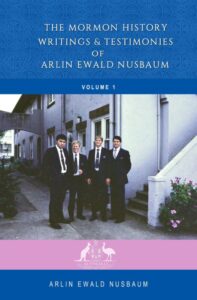 In 2018, Arlin was visited by his deceased grandfatherx5 David White Rogers (1787-1881), who was ordained a Patriarch for the Provo area by Brigham Young in 1873. Grandfather Rogers instructed Arlin in the ordinance of Loosing and asked him to vicariously break every Church covenant he made and to baptize him into Christ.
His teachings allowed Arlin and his family to bless many deceased individuals in this way. He put the information on his website, https://loosed.org, and his book Proxyism.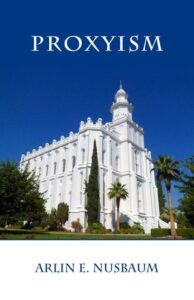 Additional messengers were sent, including special Book of Mormon Witness David Whitmer, who asked Arlin to defend his honor and create a website for him, which they did together: https://whitmercollege.com. The account of other messengers is in Volume 3 of his Mormon History, Writings, and Testimonies series.
The Heavenly messenger he was privileged to be instructed by the most was Moroni. Moroni is a translated being (not resurrected). Moroni gave Arlin five tours of ancient Book of Mormon lands (see America's Mt. Zion) and instructed him to put the information here: https://bookofmormongeography.org
For more than 20 years, Tammy and Arlin have sought to bring reform to the Mormon Church through their many books and websites, and now, according to Moroni, the time for the Mormon Church to repent by adhering to the teachings in The Most Holy and Sacred Book of Mormon has passed, and God's favor for them is over. It's truly the case prophesied by John:
4 And I heard another voice from heaven, saying, Come out of her, my people, that ye be not partakers of her sins, and that ye receive not of her plagues.
5 For her sins have reached unto heaven, and God hath remembered her iniquities. (Revelation 18)
According to Church leaders, the entire Church is still under the 1832 Curse of Condemnation:
54 And your minds in times past have been darkened because of unbelief, and because you have treated lightly the things you have received—
55 Which vanity and unbelief have brought the WHOLE CHURCH under CONDEMNATION.
56 And this condemnation resteth upon the children of Zion, EVEN ALL.
57 And they shall REMAIN under THIS CONDEMNATION until they repent and remember the new covenant, even the Book of Mormon and the former commandments which I have given them, NOT ONLY TO SAY, BUT TO DO according to that which I have written—(D&C 84, Sept 22, 1832)
Save your soul.
Formally have your name removed from the records of the Mormon Church (https://quitmormon.com) and follow the steps on loosed.org.
Mission Statement | Our Books | Our Websites | Contact